Please kindly note that the average wait time is 30 minutes by phone, you may also contact us via our chat or email for your convenience, thank you for your understanding.
WELCOME TO GARRAFON NATURAL REEF PARK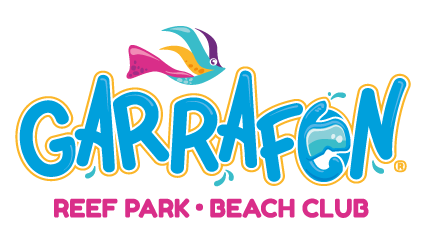 ENJOY NATURE WITH UNIQUE ACTIVITIES ONLY AT GARRAFON PARK!
Garrafon Natural Reef Park is well known all over the world for its astonishing reefs and cliffs right in front of the turquoise waters of the Mexican Caribben Sea. Just 25 minutes from Cancun, in the beautiful island of Isla Mujeres, this reef park offers recreative activities, such as snorkeling, kayaking, zip-line and tours through the island; and relaxation activities, such as mayan sauna -temazcal-, panoramic pool, lounge chairs and hammocks.
Come experience what Garrafon Natural Reef Park has for you and collect amazing memories that will last forever.
Dare to experience Garrafon!
GARRAFON
ROYAL GARRAFON

Remember to always use biodegradable sunscreen to protect your skin, the environment and marine species.

Sandals for comfort and convenience.
Swimsuit for water activities.
Extra money for taxis, shopping, food and souvenirs.

Hat or cap to protect your skin from the sun's rays.

Sunglasses to protect your eyes from the sunlight.

Change of clothes for your return.
ROYAL GARRAFON VIP
This website stores cookies on your computer. They are used to collect information about the way you interact with our website. It helps us customize and improve your browsing experience. For more information about the cookies we use, please visit our Privacy Policy.